Description
The Atlanta 1996 is constructed from various diamond panels for the best fit to the body in areas needed for optimal muscle performance. High-quality polyester and elastane fabric protects your skin from the sun's ultra-violet rays, providing an ultra-breathable, aerodynamic and ergonomic second skin feel.
Wide hexagonal straps offer a perfect fit in the road position without any sensation of invasive pressure. A 70mm Grip on the lower thighs allows the position to be maintained despite the movement of the legs.
Incorporates a three-layer "Bretagna" chamois pad for long distance with a use of >8 hours of training with120 Kg/m2 impact absorption. Its ergonomic shape and varying foam densities – from 75kg/m2 – creates a perfect fit allowing for correct blood circulation to provide the optimal combination of comfort and performance. The flat-stitch, Zigzag Overlock seams offer the best protection against chafing.
The antibacterial treatment of its fabric and micro-perforations improve breathability and sweat transfer, ensuring freshness during hours of use.
Fresh skin: high breathability
Reflex detail: visibility details for road safety
Thermal regulator: thermoregulating fabric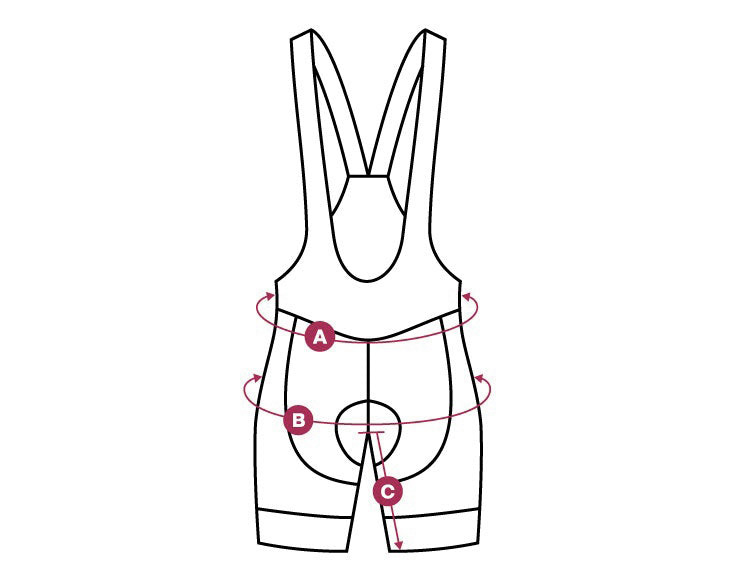 Measurements are taken directly on the body in centimeters.
To take the measurement, use a flexible tape measure.
To take the measurement, use a flexible tape measure. If you have a measurement between two sizes, it is preferable that you select the larger size. There may be variations of 1-2 centimeters.